Women's International Terrorist Conspiracy from Hell, shortened W.I.T.C.H., was the name of many related but independent feminist groups formed in the United States during 1968 and 1969 and who were important in the development of socialist feminism. The name W.I.T.C.H. was also sometimes expanded as "Women Inspired to Tell their Collective History," "Women Interested in Toppling Consumer Holidays," and many other variations (Brownmiller 1999, 49).

W.I.T.C.H. was formed when the New York Radical Women (NYRW) split in 1969. The group divided, mainly as a result of disagreements about the role of consciousness raising (CR) groups, into the Redstockings (the new home for CR group advocates) and W.I.T.C.H. (a group that advocated political rather than personal action). W.I.T.C.H. members tended to be "politcos," social feminists, who strongly identified with the New Left, and radical feminists, who supported an autonomous women's movement. (Echols 1989)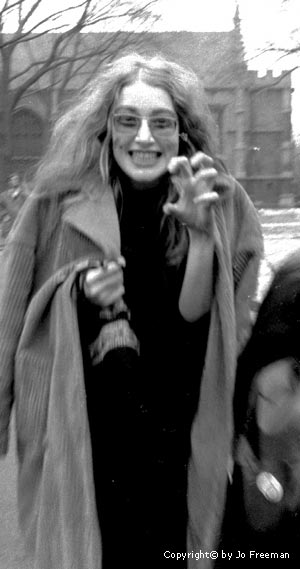 1960s radical feminism FTW.